Rancho Cucamonga-Riverside CA
Ontario CA
Vinyl Upholstery Repair
Vinyl Furniture Repair & Vinyl Restoration
Call us today at
(909) 670-2072
OR

Fibrenew specializes in vinyl repair & vinyl upholstery repair. We can restore the original color of your vinyl upholstery as well as recondition it, or even re-dye it to the color of your choice. Your local Fibrenew professional can make worn, faded, cracked and broken vinyl upholstery & leather look new again.
We serve the entire San Bernardino CA
including the areas surrounding the cities below

Alta Loma


Rancho Cucamonga, CA
Ontario, CA
Claremont, CA
La Verne, CA
Pomona, CA
Montclair, CA
Fontana, CA
Chino, CA
Rialto, CA

Highland, CA
Mentone, CA
Wrightwood, CA
Crestline, CA
Lake Arrowhead, CA
Bluejay, CA
Running Springs, CA
Big Bear Lake, CA
Mt. Baldy, CA
Mira Loma, CA
We are mobile, and can come to you!
Call your local Fibrenew representative today and let them recondition and repair the vinyl upholstery in your car, truck, boat, plane, or in your home or office.
Fibrenew Restores and Refurbishes:
» Aircraft plastic and vinyl seats & trim
» Waiting room furniture & examination tables
» Cracked, faded & loose steering wheels
» Cracked and faded dashboards
» Vinyl consoles, armrests, door panels
» Booths, chairs, & bar stools in restaurants
» Cigarette burns, & scratched vinyl repaired & replaced
» Touch ups & re-dye of residential couches, chairs, & recliners
» and so much more...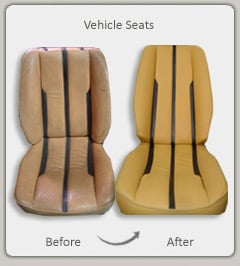 Call us today at
(909) 670-2072
OR


We serve Alta Loma
including the areas surrounding the cities below

Rancho Cucamonga, CA
Ontario, CA
Claremont, CA
La Verne, CA
Pomona, CA
Montclair, CA
Fontana, CA
Chino, CA
Mira Loma, CA
Rialto, CA

Highland, CA
Mentone, CA
Wrightwood, CA
Crestline, CA
Lake Arrowhead, CA
Bluejay, CA
Running Springs, CA
Big Bear Lake, CA
Mt. Baldy, CA