Altamonte Springs, FL
Boca Raton, FL
Boynton Beach, FL
Bradenton FL
Brandon, FL
Cape Coral, FL
Carol City, FL
Clearwater, FL
Coral Springs, FL
Davie, FL
Daytona Beach, FL
Deerfield, FL
Delray Beach, FL
Deltona, FL
Fountainbleau, FL
Ft. Lauderdale, FL
Gainesville, FL

Hialeah, FL
Hollywood, FL
Jacksonville, FL
Kendale Lakes, FL
Kendall, FL
Lakeland, FL
Largo, FL
Margate FL
Melbourne, FL
Miami, FL
Miami Beach FL
Miramar, FL
North Miami, FL
Orlando, FL
Oviedo, FL
Palm Bay, FL
Palm Harbor, FL


Pembroke Pines, FL
Pensacola, FL
Plantation, FL
Pompano Beach, FL
Port St. Lucie, FL
Sarasota, FL
Seminole County, FL
Spring Hill, FL
St. Petersburg, FL
Sunrise-South FL
Sunrise-North FL
Tallahassee, FL
Tamiami FL
Tampa, FL
Town n Country, FL
West Palm Beach, FL
Winter Springs, FL
Tampa FL
Leather Repair, Leather Upholstery Repair & Restoration
Vinyl Upholstery Repair--Plastic Repair
Call us today at 813-252-1807
OR


Visit Our Website


We serve Tampa & Hillsborough County including
the communities surrounding the cities below

Apollo Beach FL
Brandon FL
Citrus Park FL
East Lake FL
Greater Carrollwood FL
Land O'Lakes FL
Plant City FL
Tarpon Springs FL
Temple Terrace FL
Town N Country FL
Vinyl Upholstery Repair
Vinyl Furniture Repair & Vinyl Restoration
Fibrenew specializes in vinyl repair & vinyl upholstery repair. We can restore the original color of your vinyl upholstery as well as recondition it, or even re-dye it to the color of your choice. Your local Fibrenew professional can make worn, faded, cracked and broken vinyl upholstery & leather look new again.
Sarasota-Bradenton FL
Leather Upholstery Repair-Vinyl Repair-Plastic Restoration


Call us today at (941) 999-1045
OR


Visit Our Website


We serve the entire Sarasota FL area including
the communities surrounding the areas below

Bayshore Gardens FL
Bradenton FL
Englewood FL
Fruitville FL
Gulf Gate Estates FL

Laurel FL
Sarasota FL
Siesta Key FL
South Bradenton FL
South Venice FL
Venice FL
We are mobile, and can come to you!
Call your local Fibrenew representative today and let them recondition and repair the vinyl upholstery in your car, truck, boat, plane, or in your home or office.
Fibrenew Restores and Refurbishes:
» Aircraft plastic and vinyl seats & trim
» Waiting room furniture & examination tables
» Cracked, faded & loose steering wheels
» Cracked and faded dashboards
» Vinyl consoles, armrests, door panels
» Booths, chairs, & bar stools in restaurants
» Cigarette burns, & scratched vinyl repaired & replaced
» Touch ups & re-dye of residential couches, chairs, & recliners
» and so much more...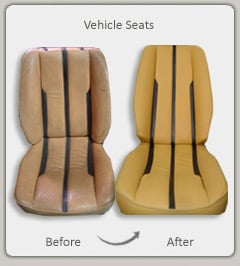 Sarasota-Bradenton FL
Leather Upholstery Repair-Vinyl Repair-Plastic Restoration


Call us today at (941) 999-1045
OR


Visit Our Website


We serve the entire Sarasota FL area including
the communities surrounding the areas below

Bayshore Gardens FL
Bradenton FL
Englewood FL
Fruitville FL
Gulf Gate Estates FL

Laurel FL
Sarasota FL
Siesta Key FL
South Bradenton FL
South Venice FL
Venice FL